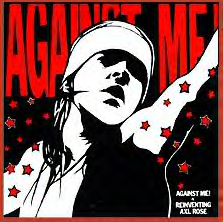 I, and TheLocalZine, would like to thank Against Me! for granting us this interview. Against Me! is one of my most favorite bands, they are amazing live, and every record they put out has such meaning and is well constructed, I strongly recommend you check them out if you have time. Below is an interview I had been dying to construct since the first time I saw them, filled with questions that I had always wondered when listening to "Reinventing Axl Rose." I hope you enjoy...
TheLocalZine: Who is everyone, how old are they, and what do they play?
Against Me: Andrew plays Bass... he's 25. James plays guitar.... he's 22. Warren Plays Drums.... he turned 22 yesterday. I play guitar and sing (Tom) and Im 22. Jordan is our official "guy" he's 20.... he doesnt do much but give bad opinions on things he knows nothing about.
TheLocalZine: Where are ya`ll from?
Against Me: none of us are actually from Gainesville... which is the case with most of the people that live here in town. Ive known james the longest out of everybody... I met him on the first day of High School... that was in Naples Florida. James was born in Naples but after dropping out of High School he moved to St. Pete for a while. I moved to Napels from Italy, texas before that, Ohio before that, Pennsylvania before that, and I was born in Georgia. Warren moved to Gainesville from Sarasota. Andrew moved here from Murfreesboro Tennessee, he moved there from Huntsville Alabama though. Jordan moved down here from Baltimore, we all met him from playing shows up there.... we'd stay with him at his moms house. So then we made him move down here.
TheLocalZine: What do you think of the music scene there? If you could change one thing, what would it be?
Against Me: The music scene here is really great. The only thing I could say that would need changing is there is an unfortunate trend happening lately of venues closing down. There are tons and tons of bands.... and lots of them really incredible bands....
TheLocalZine: How did you come up with the idea for "Baby, I`m an Anarchist"
Against Me: I wrote Baby Im an Anarchist with two friends of mine.... Cassidy Wrist and Rob Augman.... me and rob live together at the time and we wanted to start a band..... it was going to be rob on drums me on guitar and singing and Cassidy singing as well... we never had a name or anything like that.... we only practiced a couple times. We all wrote the song together.. just sat down in the kitchen and kind of Hammered it out start to finish I came up with the guitar part and we all came up with the Lyrics.... Rob had the idea for the song I think.... the idea was making a song that was metaphoric for the relationship that liberal and left wing movements have had with the Anarchist movement throughout the years.... how at times both have worked together for goals and the way things end up in the end.... the metaphor was writing it as if it was a relationship between a boyfriend and girlfriend (although it was never meant to be taken as gender specific in that metaphor) ...."baby Im an Anarchist" was Cassidy's line.... that was the only song that came out of the band..... I always thought it was an amazing song and I didnt want it to die just cause the band didnt happen.
TheLocalZine: Your lyrics are deep and thought provoking, what is your inspiration for such lyrics?
Against Me: I dont really know.... I think any answer I give to this question is going to sound cliche or sound really self righteous like "life inspires me" ...or... "my love of humankind and mother earth" ....... I say pass on this one.
TheLocalZine: Whats your favorite place to play a show?
Against Me: Its really fun to play shows here in Gainesville, that sounds like such a generic answer.... obviously its going to be fun playing in the town you live in.... I really dont care... Ill play anywhere....... oh yeah... we love Baltimore
TheLocalZine: Favorite food?
Against Me: Some of us of work on and off at this bar/restaurant called "The Top" and when we arent working we are hanging out there.... its a really awesome place... their food is incredible.... amazing vegan/vegetarian food.... I really recommend anyone checking it out if they ever pass through gainesville... seriously just the best in town.
TheLocalZine: If you could play with any band(s), past of present, who would it/they be?
Against Me: .... there are obviously a million bands out there broken up or still together who we all love..... it sucks to play a show sometimes with a band your really really into.... Like lets say the Clash for instance... I love the clash... but playing with them would suck.... you couldnt play after them cause... they're the fucking clash.... and playing before them I would feel so anxious to see the clash... no one would want to watch us play.... they want the Clash. I really enjoy playing with my freinds bands... people I know and respect... thats always a blast. Its also really fun sometimes to play with bands that you hate... not neccesarily musically, but as people..... just to get the attitude of "fuck these people... they're complete jerks.... lets get up there and blow them away.... play harder then they could ever imagine playing." If we could open for Bruce Springsteen that would be incredible though....
TheLocalZine: Any necessities you must bring on tour?
Against Me: Aside from the obvious things like clothes and sleeping bags... I think the only thing any of us really bring are books and music.
TheLocalZine: How long have you kids been a band? How did you all meet/become a band?
Against Me: Ive been doing this since 1997. I started doing it alone... I started playing with James like a year later. Its never had any intentions of being a band in the sense of this set way of how it should be, how many members, specific instruments, etc. We have releases where theres only two of us on the recording, people have come and gone in the band as well. Again, me and James went to High School together. I met warren through the activist community here in Florida, there used to be a really tight group of kids here in Florida and we would all get together from across the state every couple of months, all the different food not bombs groups, or whatever. Andrew played in a band that we played with a couple times... we found ourselves needing a bass player and asked him if he'd be into it. When he moved down here we didnt even know if we would like him or not.... it was really kind of nerve racking..... now we have this guy in the band who we really dont like but dont have the heart to tell him because he moved all the way down here from Tennessee.
TheLocalZine: Do any of you have any other side projects or been in previous bands?
Against Me: Andrew was in a band called Kill Devil Hills up until we stole him... I know he's been in some other bands but I dont really care. James was in a band called the Scams from St.Petersburg.... they had a song called "burn down the white house" and when james was in the band he was called pignuts. Warren was in a couple bands in Sarasota.... one was called Le Coq Sportif (the sporty cock)... when they went on tour they all grew mustaches and pretended to be french..... really cool huh? I used to play in a band called the Adversaries down in Naples... also a grind core band called Common Affliction.... we were sick... everybody really missed out on that one. Jordan was in the band A//Political from Baltimore... he had dreadlocks and wore crass shirts when I met him.... now he listens to bands like weezer, cave in, and the faint.... I guess life takes funny twists sometimes. We dont have any side projects really.
TheLocalZine: "Pints of Guinness Make you Strong" is such a great song with awesome lyrics, who are Evelyn and James?
Against Me: Evelyn and James Grace where my grandparents. Evelyn died in august a year ago, she had a stroke about a year before, after the stroke she had to live in a nursing home. I was always really close with her, I lived with her on and off when I was growing up, she was kind beyond words. It broke my heart the year she spent in that nursing home. evertime I went to visit her she was always sitting in the hallway right by the elevator doors, they'd open up and there she'd be. James died when my mother was young... I never knew him.... his parents immigrated from Ireland... he owned the largest dairy in all of the midwest "Wilson Dairy" he was an alcoholic.... My Grandmother never re-married.
TheLocalZine: When do you plan on touring again to the Bay Area, CA?
Against Me: We leave for Europe next week. We will be gone for two months. When we come back we are probably going to take a month or so off. Then we plan on heading out that way.
TheLocalZine: When can we expect another record?
Against Me: We've been concentrating on writing new songs lately. Hopefully we will have stuff ready to record by the end of the summer. I really dont want to rush stuff.... but at the same time Im really excited right now to be writing. The next full length is going to come out on Fat Wreck Chords, we are really excited about it, its something that just happened recently.... its also something we are getting a bunch of shit for. We think fats an awesome label though....
TheLocalZine: Any bands you want to mention that you don`t think get enough reconigination?
Against Me: There's a band called Dead things from Asheville North Carolina that I think is one of the best bands out there right now... completely fucking amazing.
TheLocalZine: What bands do you dislike?
Against Me: I could go on for a long long long time....
TheLocalZine: Any guilty pleasures?
Against Me: I collect Star Wars Toys.
TheLocalZine: What was your inspiration for "8 Full Hours of Sleep?"
Against Me: I was kind of going through a period of time where I couldnt write anything... mostly cause I was living illegally in this shitty "office space" I could sing and play guitar loud cause of the people above me.... its a nice quiet song. I dont know... it just came out....
TheLocalZine: The popularity of the band has grown a lot in recent months, how do you feel about that?
Against Me: Well... its a wierd thing. Its really flattering when people like a band you are in, and its really exciting. When you work hard at something and put everything you've got into it... its nice when things start to work out. We toured for years playing shows to no one, if the shows even happened... riding in vans that never made it through the tour. You play in a band and you want people to hear what you have to say... I mean thats why I play in a band. But just because you get popular doesnt mean you start doing things differently.... Id play to 4 people just the same as I would to 4 million... I dont care... I just want to play. In a wierd way we have kind of been waiting for the backlash to start..... we've had alot of good things said about us and again its very flattering when people say good things but at the same time people are really fickle and some people really go with popular trend... who's the band to like right now... who's in who's out. I know our record has gotten good reviews in certain zines... but at the same time I know those same certain zines will often tear up records and bands that are amazing and deserve nothing but the highest praises. Its a question of what you take stock in. I play in a band... which means that I want to make music, when all is said and done I dont give a shit what someone says about the band regardless of whether its good or bad... cause who am i doing this for. We know with this fat thing there's going to be alot of backlash.. i mean there already has... Ive gotten alot of e-mails... and I feel like most of the time people are pissed for reasons they dont even know why... they just feel like they should be. I know alot of it ties into peoples take on what D.I.Y means. We are a punk band and I beleive really strongly in D.I.Y ethics but those ethics are ones that Ive decided for myself.
TheLocalZine: Boxers or briefs?
Against Me: Boxers... but Jordan wears Boxer Briefs.
TheLocalZine: ok last and final question: who is the pimpest muthafucka of all time?
Against Me: Jordan... you got to meet him.
oxoxxxoxo
xJenx
check out the Against Me! website at AgainstMe.net