LocalZine: Who is in the band and what does each person play?
Tim R - Guitar/Vox, Brandon P - Bass/vox, Steven D - Drums

LocalZine: How old is everyone?
Tim - 21, Brandon - 23, Steven - 20

LocalZine: When did you guys start up and how did you meet?
TIM: We started sometime in February of 2001. Brandon was in a band called Boy Kicks Girl, and Steven and Tim were in a band called FreakbomB. Our 2 bands played some shows together, and were really involved with the local scene, so that is how the 3 of us met. Both of our bands broke up in late 2000, so we sorta just started jamming once in a while, and this is what happend.
BRANDON: Sounds right to me.
STEVE: I love these guys!

LocalZine: What style of music would you say you play?
TIM: I would call us Power Pop, i dont really care what we are called though.
BRANDON: We have punk roots but there is emo and indie rock in the mix.
STEVE: Introspective melodic Rock n' Roll.

LocalZine: How did you come up with your name?
TIM>: I had just broken up with my girlfriend, and quit my band, and was getting ready to quit my job and start all over with everything. So when i started writing new songs, i thought the pefrect name would be My New Life
BRANDON: Sort of the same for me except the job thing, but I was almost out fo school and gettin on with life and all that good stuff.
STEVE: It fits, for all of us. All of us were starting atleast one thing new, but everything brought a major change in all of our lives.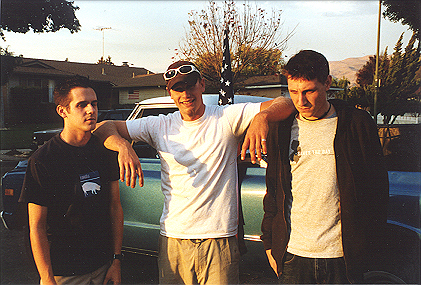 LocalZine: Who are your biggest influences?
TIM: Soo many. I dont really write based on anyone specifically, there isnt really a sound that I am trying to go for or anything cool like that, I just write whatever. But people I really look up to in music would be like, John Lennon, Weezer, Jimmy Eat World, Elvis Costello, there are plenty more, but i dont want to bore you.
BRANDON: I learned to play bass to Nirvana, Red Hot Chili Peppers, and Pearl Jam. Those band probably affected my bass playing a lot...oh yeah Paul McCartney helped too.
STEVE: Tre cool for sure, Travis Barker(pre-blink), Chris "kid" Knapp, Danny Wright, Josh Freese, and to many others to list.

LocalZine: What do you think of the local scene lately?
TIM: To me it seems the local scene is slowly dying. The bands keep getting better, but there are less places to play now than there were a couple years ago. The places that are opening in place of the larger all ages venues tend to be smaller and harder to find places like the LG Outhouse and Armondos Cafe and 420 S.Bascom. Not to say that they arent good venues, they just lack a certain feel sometimes that i think is a really cool part of going to a local show.
BRANDON: I think the local San Jose / South SF Bay scene is coming out of a transition. There's a lot of great bands with a lot of drive and potential. The Pound is in SF, the Outhouse in Los Gatos, the Basement at Santa Clara University and various local venues are trying to get national touring acts in the bay area which is great for the scene. There's a lot of young aspiring talent here and I think it can be a major player in the indpendent music scene.
STEVE: I have no response to that.

LocalZine: What is the best/worst show you've played?
TIM: I would say the worst show that I have played with this band would be our first show in April at the Chemical Free Zone in San Jose. We werent very comfortable with the songs and playing live together was still a very new feeling. The best show would be every show since then, I love the guys that I am in this band with, and it's hard for me to imagine that i was actually in another band before this, I wouldnt want to play with anyone else than the two awesome guys that I play with in this band.
BRANDON: I second that.
STEVE: AGREE!

LocalZine: If you could play with any band, past or present, who would it be?
TIM: I would love to be able to play in some shitty LA club with Guns N' Roses circa 1986 before they got huge and played arenas.
BRANDON: WOW...that's a tough one. I think I have a huge list...got an hour? But I'd have to go with Nirvana.
STEVE: Saves The Day or Weezer.

LocalZine: What should we expect from you guys in the future? Any new albums?
TIM: Jeez, tough question. Prolly the best answer is not to "expect" anything, just see what happens, and support us in whatever we do. We will be recording our full length next month (january) and we are hoping for a release sometime this spring.
BRANDON: We will be shopping the full length to numerous labels both big and small. We also have plans for a split with some friends of ours and some compilations in the future. Basically, we will have something for your CD player but will keep it reall with the live show!
STEVE: A bunch of KICK ASS shows, and a fly def super ill full length come spring 2002.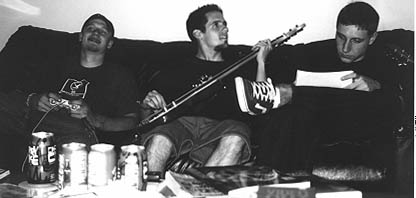 LocalZine: Who would win in a fight, Sum 41 or Blink 182?
TIM: Blink 182, they have more experience and they kick more ass than Sum 41.
BRANDON: In a greater than / less than world Blink wins.
STEVE: Niether..... come on people we all know that girls can't fight.

LocalZine: Who is the pimpest mother fucker in all the land?
TIM: I would say that Hugh M. Hefner is the pimpest mother fucker in all the land.
BRANDON: Who's that guy that was on Dave Letterman and those phone commercials for 1-800-save money or whatever. That guy with the glasses and looked all weird? do you know who I'm talking about? Yeah, not him.
STEVE: Larry Flint after he got shot, cause he could'nt get it up but still saw more naked women than me.

Check out thier site at MyNewBand.com
Download thier songs at MP3.com

*Interviewed by PRS