Localzine: Who is everyone, how many years young are they, and what do they jam with?
Robert: My name is Robert and I'm 19 years old. I play guitar and sing lead.
Ryan: I'm Ryan, 19, I play guitar.
Paul: I'm Paul, I'm 22, and I play the drums and sing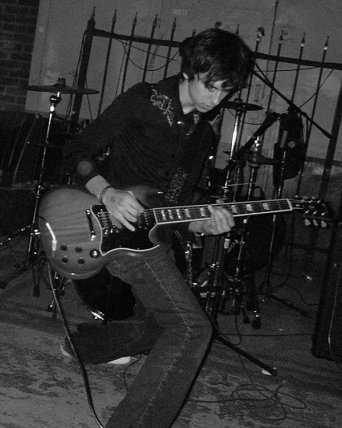 Localzine: Describe the sound your band makes.
Robert: It's melodic punk rock laced with harmonies. It can be fast and aggressive at times, but it can also be very melodic and catchy.
Ryan: kind of like power slop with an edge.
Paul: We're a punk band. We use a lot of harmonies, but maintain a strong, fierce edge.
Localzine: What is your favorite part of playing in this band?
Robert: I like the creative aspect of being in a band the most. Writing a good song is one of the most rewarding things on Earth, in my opinion, and to see the music that I've written come to life when it'splayed in a band setting is really great. The band is my creative outlet. I don't consider myself the singer or guitarist as much as I consider myself the songwriter. It's my niche, and it's a lot of fun.
Ryan: Playing shows that people actually come to.
Paul:The first band I was ever in was with Rob, so it's good to play with him. We have a good chemistry musically.
Localzine: How did you choose the name The Silent Film Stars?
Robert: We just thought it sounded cool and didn't pin us down to playing one style of music. Cannibal Corpse couldn't exactly play a pop song if they wanted to, right?
Ryan: I don't know.
Paul: I'll let Robby explain that one.
Localzine: Whats your favorite food?
Robert: Hmm... mashed potatoes?
Ryan: Taco Bell!
Paul: I love sushi. Hamachi and some California rolls just can't be beat.
Localzine: Last CD you bought?
Robert: Elvis Costello - My Aim is True
Ryan: I don't usually buy CDs, the last record I bought was probably Nine Shocks Terror "Paying Ohmage" Fucking awesome!
Paul: "Control" by Pedro the Lion
Localzine: What`s in your CD playa right now?
Robert: Queen - A Night at the Opera, David Bowie - Ziggy Stardust, and Draw Blank
Ryan: Chuck Berry box set disc 2.
Paul: Elliott Schneider's "Greatest Hits And Then Some"
Localzine: Favorite band(s) or all time?
Robert: Bad Religion, The Beatles, Green Day, The Who, The Smiths, NOFX, and the list goes on...
Ryan: Beatles, Beach Boys, Ramones, Ventures.
Paul: David Bowie, The Who, Bad Religion, The Refused, Queen, and so many more.
Localzine: If you could play with any band(s) past or present who would they/it be?
Robert: Any of my favorite bands, especially Bad Religion... And I think it would be cool to play with Weezer.
Ryan: Beatles, Beach Boys, Ramones, Ventures...
Paul:I'd want to play with the Who in their prime. They had more energy than anyone.
Localzine: If you could sleep with one famous person who would it be?
Robert: Queen of England.
Ryan: I'd probably fuck Jenna Jameson.
Paul: Winona Ryder without a doubt.
Localzine: If you had three wishes, what would they be?
Robert: I'm going to pass on this one... too much pressure.
Ryan: Not having to go to school, Not having to go to work, Not having to pay for records.
Paul: 1 billion dollars, international fame, and happiness
Localzine: How has your band changed/grown since the addition of Ryan?
Robert:Ryan has added a lot to our music. Aside from just bulking up our guitar sound, he's an excellent musician and has a lot of good ideas. His input is proving invaluable and our songs have never sounded better. He also has a great stage presence that has really improved our live show.
Paul: We're just better now. Ryan is awesome, and a great addition to our sound.
Localzine: Whats the best show you`ve played so far?
Robert: As far as crowd reaction, Eagles Hall in Livermore on March 9, 2002, but I think that we played the best in Alamo on September 15, 2002.
Ryan: The Reno show was good, I think...
Paul: The first show we played at Eagles Hall was a blast. There were hundreds of kids there to see us, and I loved every minute of that show.
Localzine: Worst?
Robert:Ugh. Redding. I don't want to go into it...
Ryan: The one in Santa Cruz where I broke a lot of strings and looked dumb.
Paul: We had a show in Pacifica at the Club. I showed up late, and we squeezed in a bad set. It was disastrous.
Localzine: What is your favorite place to play a show?
Robert: We love playing anywhere and everywhere, but if I had to narrow it down I'd say Eagles Hall in Livermore, The Club in Pacifica, or The Pound in San Francisco
Ryan: I suppose Eagle's Hall in Livermore, even though I've never played there.
Paul: I really like the Pound. The sound there is rad, and the stage is cool, too.
Localzine: How have people responded to the band? Good/bad?
Robert: People seem to respond positively to what we do. We're slowly acquiring a larger and larger fanbase, and it feels good to know that people are into our music. As far as Bay Area shows go, we rarely have to endeavor to set them up. Show offers seem to come on a pretty steady basis and we have shows almost every weekend. It's really rewarding and we hope that this is only the beginning.
Ryan: Lots of standing around, nodding their heads.
Paul: For the most part we get a good response. When we play hardcore shows, we're not usually well recieved. Even some of the hardcore kids like us, though.
Localzine: What can we expect from the album?
Robert: Our current album "Promise"... It's been described as melodic punk rock with fierce edge, similar to Bad Religion, Rancid, or AFI. It's laced with hooks and harmonies. Good, solid punk rock. As for our next album... When we finally get around to recording a full-length, I hope to make it as well-rounded as possible. It will probably be more varied that what we have done in the past, because lately my writing has been more varied. We will probably always be playing punk rock in some form or another, but we hope to incorporate more of our influences in the future. When I started this band, I wanted to sound like a cross between Bad Religion and The Beatles. We haven't necessarily achieved that yet, and I hope we will at least come close when it comes time to release an album.
Ryan: We get to do an album?
Paul: You can expect harmonies and lots of them. That's mainly my department. As for the rest of the music, just expect fast, energetic rock.
Localzine: Do you plan on touring?
Robert: We're trying to set up a tour for this Winter, and I'm currently hassling a number of booking agents to help us with a Summer tour.
Ryan: Yes.
Paul: Yeah, we should be going out this December/January.
Localzine: Where ya goin?
Robert:This Winter we hope to make it to all parts of California, as well as Arizona, New Mexico, Texas, and Nevada. If the Summer tour comes together we want to go anywhere we can, basically.
Ryan: Everywhere.
Paul: Rob?
Localzine: Favorite holiday? Why?
Robert: I don't really think I have one...
Ryan: Saint Patrick's Day, because it's my birthday. I guess Christmas is rad too because of the presents.
Paul: Halloween, it reminds me of being a kid.
Localzine: Describe your live show please.
Robert:Our live show is pretty energetic, and (hopefully) entertaining to watch. We don't talk much and we usually play around 8-10 songs. I don't really know how else to describe it.
Ryan: Rock.
Paul:We have a good balance between going nuts and still playing our songs well. Just come see us.
Localzine: Do you like orange juice?
Robert: Lots of pulp, please.
Ryan: Oragne juice is the bomb.
Paul: It's no grapefruit juice, but it'll do.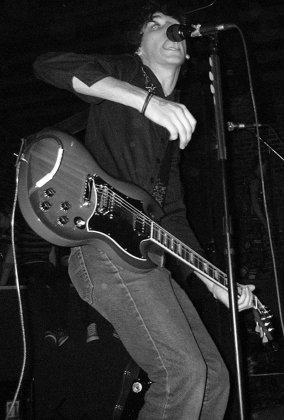 Localzine: Any bands you want to plug that you don`t think get enough reconigition?
Robert: You bet... Thought Riot (www.thoughtriot.com), Lonely Kings (www.lonelykings.com), Draw Blank(www.akanothing.com/drawblank), Love Hope and Fear (intudata.com/lhf), Normal Like You (mp3.com/normallikeyou), Dexter Danger (www.dexterdanger.com), Betty Rag(www.bettyrage.com)... All of these bands rock like none other.
Ryan: Draw Blank is rad.
Paul: The Lonely Kings are awesome. They're on Fearless records, and they are, in my opinion, the best band that isn't famous.
Localzine: What do you think of the music scene here in the bay area?
Robert: There are things I like about it and things I don't like about it. In some facets of the scene, there's a lot of negativity and elitist attitudes. Other parts are really positive and fun. There are a lot of good bands, and the Bay Area is a great place to live if you're trying to make it in a band. There are plenty of places to play and plenty of people to play to.
Ryan: There's nowhere good to play.
Paul: I have mixed feelings about our scene. On the one hand, it's great to have so many bands and so many clubs, but on the other, it's hard for a local band to get a show in the bay area because there are so many others. Not to mention that you say, "I'm in a band" and everybody automatically assumes that your band sucks.
Localzine: If you could change one thing about it, what would it be?
Robert:Everybody would be Silent Film Stars fans.
Ryan: There should be good places to play.
Paul: I'd change the elitist attitude that so many "scenesters" have.
Localzine: Any guilty pleasures?
Robert:Law & Order on TNT... I've been known to watch an entire 5 hours in one sitting.
Ryan: No comment.
Paul: I like girls. I really like girls. I REALLY like girls. On another note, though... I'm single ladies.
Localzine: Anything you want to add?
Robert: Thank you so much for doing this interview, and thanks to all of our friends who help out all the time: Emily, Russ, Jessica, Abby... you rock.
Ryan: No comment.
Paul: Don't try suicide, kids.
Localzine: Last but most important question. Who is the pimpest muthafucka of all time?
Robert: Tyler. You gotta love the panther burns.
Ryan: ODB
Paul: Dude, Barry White!
Check them out at www.TheSilentFilmStars.com
Yours truly,
oxoxxxoxo
xJenx
Picture credits (in order): Abby, Emily, and Jeff.